TURBO VIEWS: VOLUME 3 DVD is FINALLY here!
3-Discs with over 10 hours of retro-gaming fun!
Rewind the "video game" time machine back to 1989...
Turbo Views: Volume 3 brings you back into the retro-gaming world of the TurboGrafx-16. Through nostalgia and a true love for the system, Chris Bucci takes a closer look at twenty five more of the console's best and worst games.
With additional PC-Engine import and "home-brew" reviews plus a Turbo Chip full of special features, this DVD set is sure to please fans of this favorite "cult-classic" system.
Over 10 HOURS OF CONTENT!
Only $15.00 (US)
ORDER TODAY:
REGION FREE DVDs for ultimate compatibility!
Only $15.00 U.S.
(+ shipping / handling = $5 for U.S., $8.50 for Canada, and $12.00 for other countries)
**3-Pack Available on main DVD sale page! For other combinations - **
Send me an e-mail to request a total
U.S. Orders!
CANADA Orders!
ALL Other Countries!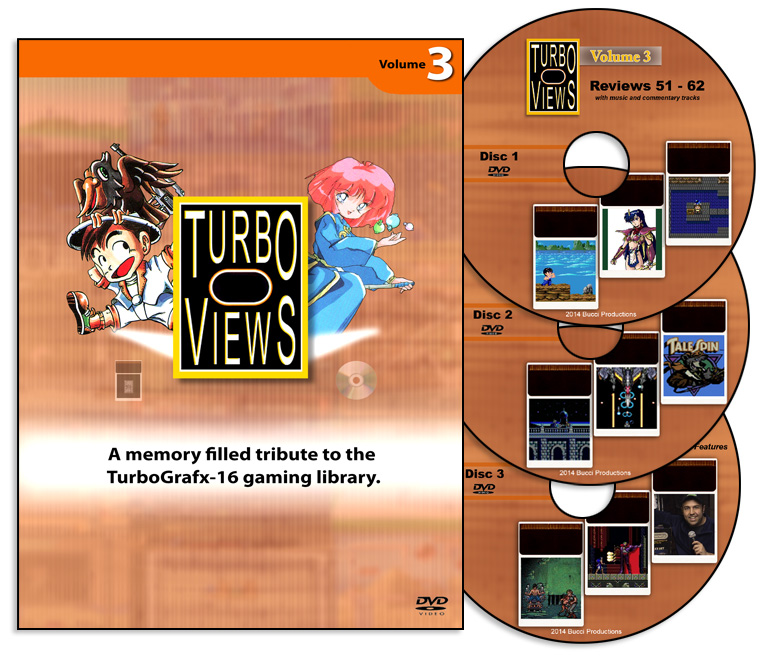 ...or PayPal manually to the following e-mail:
spida1@verizon.net
If you would like to send a money order instead, please e-mail for address and shipping quotes: spida1@verizon.net