TURBO VIEWS: VOLUME 1 DVD is here!
3-Discs with over 7½ hours of retro-gaming fun!
Rewind the "video game" time machine back to 1989...
A little system called the TurboGrafx-16 tried to flex its muscle and capture U.S. gamer's attention. Nintendo was king, Sega was about to enter the market, and the—what would be known as—16-bit wars were about to begin. The TurboGrafx-16 seemed like a sure thing with its strong success in Japan and revolutionary CD-ROM technology.
Unfortunately, it quickly took a backseat and disappeared after only four modest years. While it failed to reach huge success, the system did gain quite a cult-following of gamers who gravitated toward this "unique underdog."
Join Chris Bucci, one of these followers, as he takes you through a detailed look at some of the system's best and worst games. Mix in PC-Engine import reviews, system close-ups and a ton of nostalgia and you have one major retro-gaming DVD set.
ALMOST 8 HOURS OF CONTENT!
Only $15.00 (US)
ORDER TODAY:
REGION FREE DVDs for ultimate compatibility!
Only $15.00 U.S.
(+ shipping / handling = $5 for U.S., $8.50 for Canada, and $12.00 for other countries)
U.S. Orders!
CANADA Orders!
ALL Other Countries!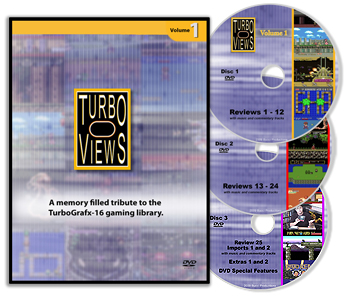 ...or PayPal manually to the following e-mail:
spida1@verizon.net
If you would like to send a money order instead, please e-mail for address and shipping quotes: spida1@verizon.net